Olympian Parent Teacher Student Organization (PTSO)  

Like us on Facebook & follow us on Instagram and Twitter @olympianptso
Email us : olympianptso1925@gmail.com OR Call us: (619) 550-4534
Mission Statement
The mission of the PTSO is to raise funds that will support endeavors to prepare each graduate for success in a four-year college or university.
Executive Board Installed
PTSO officers for OHS school year 2023-2024:
President

Ivonne Martinez

Vice-President

Elizabeth Armendariz

Secretary

Stephanie Emerson

Treasurer

TBD

Parliamentarian

Sandra Cain
Historian/Communications Director
Denise Muñoz

Teacher Representative

Ms Pentz-Lopez

Student Representatives

Freshmen Class-Rianna Cain, Juan Miguel Borja

Sophomore Class -Frankie Martinez, Isma LaFrancis

Junior Class – Joshua Armendariz, Chloe Cho, Emily Topete

Senior Class – Alejandra Cain
PTSO Executive Board Meetings are usually held the second Tuesday of the month at 6:30 pm in the College Center. General Membership meetings will be held in the fall and spring. Meetings are open to everyone. Please note that only Executive Board Members can vote on items of business, with the exception of the election of board members and the annual operating budget. 
It is never to late to join the PTSO, and we encourage your participation and membership. If you have any questions or suggestions, please email us at olympianptso1925@gmail.com
| | | | |
| --- | --- | --- | --- |
| OHS PTSO Resources | | | |
| OHS PTSO By-Laws | Last Meeting's Minutes & Agenda | 2019-2020 Proposed Budget | |
---

OHS PTSO NEEDS YOUR SUPPORT
Great school programs create great students leading to great outcomes!
Help the PTSO support Olympian High School in its continued endeavor to establish an outstanding environment and culture that enables each student's academic success.
There are many easy ways to support your PTSO in its partnership with OHS:
Become a PTSO Member
* Annual membership fee is only $20 per family.
*Joining the PTSO is simple! Our preferred method of payment is Venmo and easy to do by scanning the QR code or simply typing Olympian PTSO  on your Venmo search tab. Alternatively, checks, cash or credit card payments are also accepted (just contact us).
*Your $20 helps to support the following activities or supplies: senior scholarships, CSF banquet, science lab equipment and supplies, math department graphing calculators and batteries, bus transportation (field trips, AVID, band and color guard events), health office snacks, online educational support tools and licenses, English Department books, Parent Visitation Luncheon, Freshman Led Conference snacks, Junior Portfolio snacks, and more!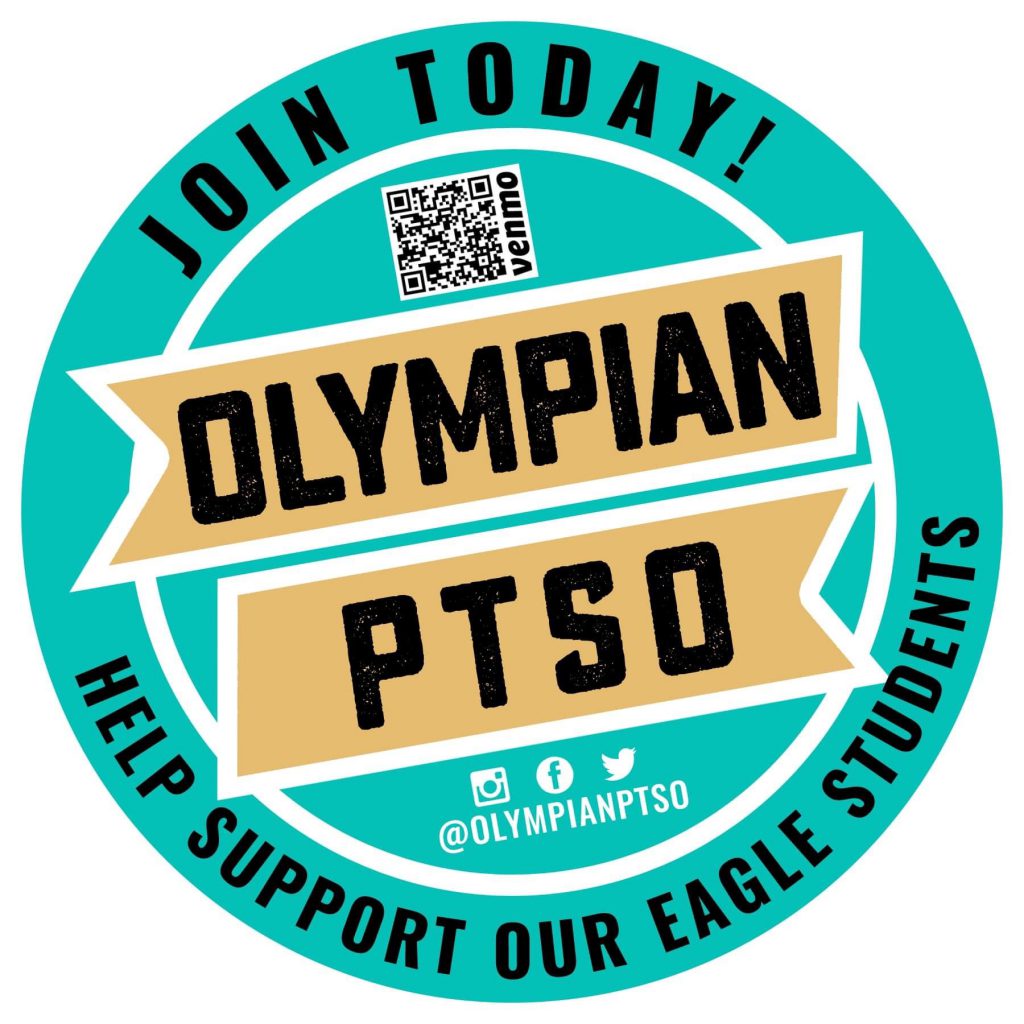 * If you would like to volunteer for any PTSO sponsored activity, please complete the Volunteer Form and please turn in to the OHS main office or email it to olympianptso1925@gmail.com. PTSO envelopes are available at the front office.
Did you know there is a PTSO Scholarship for Seniors?
The PTSO annually awards a scholarship to an OHS graduating senior. In support of the academic program at OHS, particularly in the importance of applying academics, Habits of Mind, and personal growth into community awareness and giving, the PTSO holds an annual essay scholarship about the Common Senior Experience theme of the graduating class. Olympian High School's Common Senior Experience program has received a Golden Bell Award from the State of California in 2011
Applicant's (family) must be a PTSO member.
Applicants must have at least a 3.0 GPA (college weighted).
Applicants must have plans to pursue post secondary education.
Scholarship application is available online by contacting Ms. Loya in the Counseling Center
Due date is the first Thursday of April.
Application and essay may be submitted to counselor, Ms. Loya or to the Principal's office.
Scholarship will be announced and awarded during the Senior Awards Night.
PTSO Donations – Online Giving
The PTSO sponsors and supports activities and events throughout the year for Olympian families, students, teachers and staff.  To contribute and help offset costs, please consider a one-time or ongoing donations to make events a success.
Please thank our PTSO Supporters!
THIS YEAR'S FEATURED COMMUNITY SPONSORS ARE THE FOLLOWING LOCAL BUSINESSES: 
Trader Joe's
Menchie's Frozen Yogurt
El Pollo Grill
Board & Brew
Paris Baguette
McDonald's Millenia
Yoga with Katie
ChiChis Mexican Cantina (Old Town)
Each year the PTSO seeks business and personal donations for PTSO sponsored programs.
For anyone, including from your professional or personal/familial contacts and networks, wishing to contribute in kind or in monetary, please contact the PTSO at olympianptso1925@gmail.com
SAT/ACT Prep Courses:
**"Currently not offered due to COVID-19 Pandemic**
These courses are designed for the student whose busy lifestyle demands efficient preparation in a condensed amount of time by focusing on the test topics that impact your score the most. The prep course will help you score higher on the SAT or ACT with exclusive test-taking tactics specifically designed to increase your score. Students will receive 16 hours of instruction, take practice tests and analyze the results. Seating is very limited so register now!